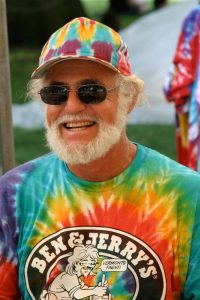 You always knew that a trip down ComFest Street Fair was never complete without a stop at Roger's Tie-dye booth. There were stacks, racks and piles of clothing bursting with brilliant tie-dye colors. When we are back live next year Roger will be sorely missed. Many of us have worn his tie-dye, seen our kids wear and grow out of lots of shirts, dresses and other colorful treasures.
Roger Roger Josephson of Key West, Florida, died on the last day of 2020 at age 74. Roger was an adventurer and a traveler, a proud father and grandfather, a free spirit and a gentle soul that lived life on his own terms. He truly was one of a kind, and he will be greatly missed by family and friends.
 Roger was born in Cleveland, Ohio and grew up in Cleveland. He attended Ohio State University and completing his degree at Ohio University, where he also met his wife of Rodziah. He maintained "snowbird" status through his life: spending summers in Ohio operating his business, and winters in Florida to avoid the cold. Roger, or 'Tie-Dye' Roger, operated a tie-dye business for 30-plus years. This took him all over the country as he set up his booth at craft shows, festivals, and concerts. Roger believed that life should be full of color; he would never be found in plain neutral clothing. In more recent years of "semi-retirement," he continued his travels, visiting friends and family, and began painting and sketching.
Roger was an active participant in life. His adventurous spirit and love of nature took him to many places: the hills of southern Ohio, the beaches of Florida, volcanoes in Hawaii, wharfs in San Francisco, mountains in Vermont, ruins of Machu Picchu, the holy land of Israel, and many more. Never one to sit still, when home on the island you could find him hiking or biking, painting while listening to his jazz, walking his dogs, or around town.
Roger was a proud father and caring grandfather. Fun-loving and dedicated, he could always be counted on for positive support, curious questions and many jokes. He was present at countless baseball practices and games over the years, high fiving fellow spectators while cheering on his sons. In recent years, he visited his grandchildren every chance he got, where he was once again fully immersed in play time.
Remember to wear some tie-dye in his honor at the 2022 ComFest.