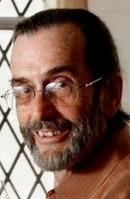 Kent Beittel and his wife Mary were Honored ComFest Activists in 2012. 
Columbus lost a valiant fighter for the neediest citizens of Columbus. He founded the Open Shelter in 1983. Many recall him as a "warrior." Kent dedicated his life to seeing that those facing the direst crises of homelessness, substance addiction and mental health challenges were welcomed in their times of need. Kent was a rebel for his cause and was never afraid to dig in his heels for what he felt was right even if at times it made carrying out his mission without the support of the powers that be. He was not afraid to piss people off.
Candy Watkins knew Kent from high school years and working as a Board President of another Columbus shelter. She recalled how Beittel ran a "first responder shelter" that accepted all who were in need without questions. If you showed up at the Open Shelter you were welcomed by Kent. Watkins believes Beittel's approach "largely caused the Community Shelter Board to create 'wet' housing through the Rebuilding Lives program where sobriety is not a mandate" probably rescuing many individuals.
"Kent was indeed a warrior who held up a shield for those, who for a variety of reasons, couldn't protect themselves," according to Steve Abbott who first encountered Beittel in the early 1970's when Kent was working High Street helping runaways and homeless youth find appropriate shelter, community assistance and support. Kent's determination did at times get under some people's skin. Abbott remembers Kent as "a good friend, and the kind of pain in the ass that made me appreciate and value him."
Kent's values were deeply rooted in a foundation of faith. His father was a Methodist minister and Kent thought at one point he might follow that same career path. He lived by example and not by forcing his beliefs on others. Both Kent and his wife Mary showed "what could be accomplished through sheer will and character," according to Gabor Klein who interacted with Beittel through the Columbus Coalition for the Homeless. "His example of hard work and devotion to the homeless was inspirational," Gabor said. 
Kent was never afraid to be who he was. He sometimes wore a cowboy hat, cowboy boots and leather and rode a motorcycle. He was never out to impress others. He was a master at getting attention for those he served – his people. The press sat up and took notice when Kent spoke up for the needs of the neediest. He was not afraid to pull off a media-grabbing stunt to further the cause. He slept in a dumpster at Ohio State University in one such masterful act. A 1987 Columbus Monthly article noted that Beittel didn't seek recognition for himself; "I don't think of myself as hot shit."
The warrior is gone but many who knew and worked with him through the years respect his efforts and the lives he fearlessly served. Gabor Klein said "Kent's legacy will be an inspiration for many."
 — Michael Gruber