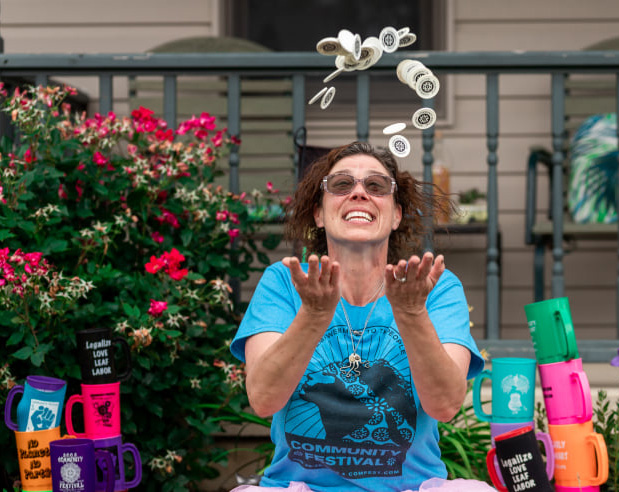 Hailing from Coldwater, Ohio Angi Seals has been an instrumental volunteer for almost twenty years. Her resume includes; Runner/on-site management for Volunteer Central, First Aid volunteer, Entertainment stage crew and on-site runner, behind the scenes Food Fairies, libations setup, teardown, assistant bar manager, count room, overall setup and teardown tasks, taxi driver for many needing rides to and from Goodale Park and much more. She is one that can always be counted on to listen, assist, give a hug, make a joke and just make everyone feel better.
Angie is a special person and volunteer. She encompasses what the sense of Comfest is about. She brings a vivacious fun attitude that's impossible to miss or resist. She literally brings fun into volunteering. She keeps tasks moving with a motivation full of smiles hugs and bunches of fun. 
She is a hard worker that is willing to jump in when some task needs attention without being asked. She has a way to see the big picture and assess situations. When a task is a bit daunting she puts on a grin and says "come on let's do it"!
Carrie Antosz, Park Street Bar Manager said, "I know I personally look forward to seeing Angi each year and can't imagine ComFest without her". 
Angi found herself humbled and a bit embarrassed when she found out she was being honored. "I have never lived in Columbus and felt like I was just helping out and never intended to do anything to be recognized for," she said.
Most of her Columbus friends are involved with ComFest and that was how she discovered ComFest. Angi said "the first year I just absorbed everything and realized the Principles were how I've always tried to live and I was forever hooked on the Party With A Purpose." 2003 was her first year volunteering, "I never officially signed up because I never wanted to take a spot from a Columbus native, especially someone needing the volunteer hours." She first helped out Lu Brammer in Volunteer Central and as other booths and bars needed help she jumped in "with a smile and probably a tutu," she recalled.
She spent most years in the jazz bar and recently moved up to a supervisor position. For a lot of years, she would tear down the Jazz Bar and head to the kitchen and help get food together for the rest of the crew tearing down and cleaning up. Every year she tries to work at least one First Aid shift a day.
Again in her humble way she said, "I'm really there just to lend a hand to whoever needs it and give as many hugs along the way as I can.
— Lu Brammer /Michael Gruber