Bozo Stage Performer Information
Please contact Jeff Rosenbloom with any questions or concerns at 614.266.5421 or  cindysloath2012@gmail.com
Please see below for detailed performance times. Again, please show up on time. With all of the performances we have our schedule is very tight. Please help us make things run smoothly for everyone.
Parking and Gates
Park – Go to the corner of Dennison and Buttles, and head South on Dennison. Attendants will direct you through the barricades. You will park your vehicles (max 2) with your passes on your dashboard, which have your name and phone number written on it clearly. Don't forget your parking pass! You will be unable to enter without it.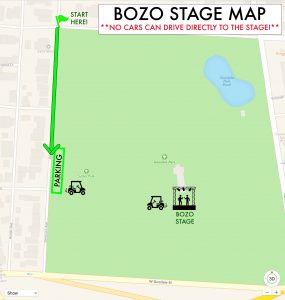 ---
Bozo Stage Backline
We want to thank Jordan Sound for providing the backline and drum kit!
5-piece Drum kit – kick, floor tom & mounted toms. A snare drum is provided, however we suggest you bring your own snare. Hardware includes: throne, single bass drum pedal, hi-hat stand, snare stand, boom stands. Cymbals will be provided, but please bring your own cymbals.
Bass Amp:  SVT Classic with SVT 810 Cabinet
Guitar Amps: Fender Deville 2 12, Fender Twin 65 Reissue
---