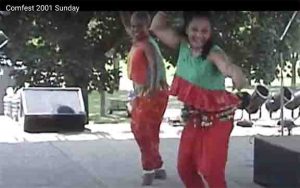 Enjoy these ComFest moments from The Video Archives. More coming soon.
Charlie Einhorn Videos submitted by Adam Einhorn
Charlie's Spirit and Love for ComFest is captured in his videos. Everyone loved Charlie because he made everyone feel good about themselves. We all miss him dearly.
Comfest 2000 Friday/Sat Afternoon (101:50) –  Performances by Howling Maggie, Soul Fu Villains, Flex Crew, Listen For The Jazz All Stars
https://www.youtube.com/watch?v=_GSDofFhp14&list=PLy5dXEgHdjG-kIvURbleHrKDIh67Rz3dI&index=112&t=198s
Comfest 2001 (57:21) – Performances include – Sean Carney, Paul Brown, Tai Chi Demonstration with Music by Paul Brown and Andy Woodson, Foley.
https://www.youtube.com/watch?v=vg3UjuqZvHI&list=PLy5dXEgHdjG-kIvURbleHrKDIh67Rz3dI&index=110
Comfest 2001 Sunday (56:09) – Vaughn Wiester Big Band, Thoisssane Dance, Tony West & The Imani Dancers, Moxie and 4th of July 2001 in Olde Towne.
https://www.youtube.com/watch?v=NlghwXnVkoU&list=PLy5dXEgHdjG8051jaoe_c1vFLlafVQYFJ&index=27&t=0s
ComFest Archive Committee Videos Produced by Scot Lacy, Milo Pictures – 
Scot Lacy has been filming and editing ComFest videos since the 80's when he was showing them on public access TV (ACTV).
ComFest 2012 (1:09:49) – 40th anniversary – Featuring Gene Walker and the Listen For The Jazz All Stars, Enrique Infante, Willy Phoenix, Ellie Lee, Mark Hunter and vendors, artist booths, workshops and volunteers (1:09:49).
https://www.youtube.com/watch?v=nYWMmbJ2WDM&t=20s
ComFest 2016 (53:27) – Performers include Tim Dvorkin Trio, Ekoostik Hookah, Tai Chi Demo w/Music by Paul Brown, Noe Salsa Project, The Girls!, Mendelsonics, and Fo/Mo/Deep.
https://www.youtube.com/watch?v=6eqPLwOJfpo&list=PLy5dXEgHdjG-VPSKfG-b0-24kHuWNcRQD&index=2&t=209s
COMFEST 2000 Bozo & Gazebo Stage Highlights filmed & produced by Bihari Productions (2:48:59) –   –
20 years ago – All Music – Featuring performances by Fenster, the Mendelsonics, Ray Fuller, Roomful, Jack Neat, Pat Dull & his Media Whores, Watershed, John Mullins Band, American Gypsy, Derek Dicenzo Trio, Yumbambe, Kettle, Foley, Rymoceros, Superstar Rookie, Prospect, Intermittent Animals, Vertigo Burn, Platypus, Emperors of Bad Luck, Fletch, Silo the Huskie, Elliot 12 Trees, One Riot One Ranger, Eileen Motok & Intuit, Tony West & the Imani Dancers, Flex Crew, Deighton Charlemagne, Blue Level, the Johnson Brothers, Stone Velvet, Donna Mogavero, Fred Haring & the Franklin County All-Stars, Pfifer, Howlin' Maggie, Listen for the Jazz All-Stars, the Four Mints, Annie Nagel Finnerty, Stonebyrd, The Velveteens, Cathy-13, Wolfgang Parker, Bob City, A Planet for Texas, Dream 17 featuring Willie Phoenix, Pop Quiz, Uncle Sam's Dream Machine, Shantee, Big Sandy & His Fly-Right Boys, Spectre, Shakewells, The Chiselers, The Marbles, Cleopatra Grip, Gigolo Skills, New Basics Brass Band, Kingrods, Pretty Mighty Mighty, Hoodoo Soul Band.
https://www.youtube.com/watch?v=DxaXcsxgtSE&list=PLy5dXEgHdjG-VPSKfG-b0-24kHuWNcRQD&index=3
Comfest 2012 Music Compilation recorded and edited by Bill Kurzenberger (14.23)
Featuring in order: Mojoflo, Cowboy Hillbilly Hippy Folk, Jahman Brahman, Tony Monaco Trio, Bill Kurzenberger with special guest Xavier on guitar, Joey Hebdo, Donna Mogavero Band, The Spikedrivers, Mary Adam 12, Ellie Lee, Devil's Lettuce, Sean Carney Band with special guest Sean Booker.
https://www.youtube.com/watch?v=CesAfHqLUSs&list=PLy5dXEgHdjG-kIvURbleHrKDIh67Rz3dI&index=86&t=0s
Comfest 2009 Live Arts Stage:
Columbus Police and Fire Pipe & Drum (20:24) –
https://www.youtube.com/watch?v=CgQH_q7vLMQ&list=PLy5dXEgHdjG9DEW1y7c5cMmYgc9QX_Wt2&index=6
BalletMet (25:36) –
https://www.youtube.com/watch?v=GO–_x_nQAE&list=PLy5dXEgHdjG9DEW1y7c5cMmYgc9QX_Wt2&index=7
Zhongxuan Wu (33:57) – Internationally known Tai Chi & Qigong Master demonstrates a very rare Tai Chi form, then performs music on  his Qin which is an ancient Chinese stringed instrument.  –
https://www.youtube.com/watch?v=SFPVeMOOlj0&list=PLy5dXEgHdjG9DEW1y7c5cMmYgc9QX_Wt2&index=9
All Soles Contra Dancers (11:30) –
https://www.youtube.com/watch?v=xcuMIB2ggVY&list=PLy5dXEgHdjG9DEW1y7c5cMmYgc9QX_Wt2&index=5
OSU Hillel Folk Dancers (37:59) –
https://www.youtube.com/watch?v=A6UjsKiNN6A&list=PLy5dXEgHdjG9DEW1y7c5cMmYgc9QX_Wt2&index=4
Swing Columbus Dancers (6:20) –
https://www.youtube.com/watch?v=ESmSv86mrsg&list=PLy5dXEgHdjG9DEW1y7c5cMmYgc9QX_Wt2&index=10
ComFest Workshops
ComFest 2014 – Solartopia Workshop @ at The Solar Stage w/ Jen Miller, Harvey Wasserman, Alec Johnson, Carolyn Harding and Pat Marida – To Achieve Solartopia We Must Kill King CONG (Coal, Oil, Nuclear, Gas)
https://www.youtube.com/watch?v=–OIHGPk-LM&t=14s
Thanks to ComFest Video Archives and to Bill Kurzenberger for creating The ComFest Video Youtube Channel.