The Virtual Community Festival will feature live streaming performances by several signature performers!
---
Tony Monaco will be streaming live as part of Virtual ComFest 2020! It's an honor to welcome the world-renowned jazz organist extraordinaire back to the Community Festival for this year's virtual event. Visit Tony Monaco online at b3monaco.com for his frequent broadcasts and online lessons, and stay tuned next Friday and Saturday June 26th and 27th at 10PM EST for Tony's live streaming performances for Virtual ComFest!
---
Donna Mogavero will be streaming live as part of Virtual ComFest 2020! Donna is a Columbus icon who has been part of our festival for decades as a signature performer and 2004 Honored Artist. Visit Donna Mogavero online at donnamogaveromusic.com and stay tuned next Sunday June 28th at 7PM EST for her streaming performance, which will be the grand finale of live entertainment presented for Virtual ComFest!
---
Tim Easton will be streaming live as part of Virtual ComFest 2020! Tim is a troubadour and renowned songwriter who performs nationally in addition to his frequent performances at the Community Festival. He recently reached the milestone of having 100 published original songs, which he celebrated by releasing 100 solo performance videos on 100 consecutive days. Visit Tim Easton online at timeaston.com, and stay tuned this Saturday June 27th at 12:00 Noon for his streaming performance to start Saturday's live broadcast!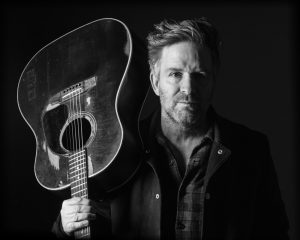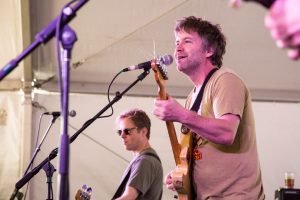 ---
---
The Spikedrivers will be streaming live as part of the Virtual Community Festival! Jesse Henry – ComFest 2015 Honored Artist – will be joined by several usual suspects of this rousing all-star band for their first ever live streaming performance! Visit the Spikedrivers online at https://thespikedrivers.com, and stay tuned on Friday June 26th from 7:00PM to 8:00PM for the Spikedrivers' live streaming performance at Virtual ComFest!
---
The annual Community Festival is a family-friendly event for all ages, and Friday's virtual entertainment will include live broadcast programming that is designed just for kids!
The Shazzbots will be streaming a brand-new live episode for Virtual ComFest 2020! For over 10 years, The Shazzbots! have been entertaining kiddos and parents of all ages with their unique brand of music, adventure and fun. They have often performed live for audiences of all ages at ComFest, particularly kids and their families. The group's television show, We're the Shazzbots, has been recognized with three regional Emmy awards by the Ohio Valley Chapter of the National Academy of Television Arts and Science, and is a premier representation of locally-sourced entertainment designed for children.
Visit The Shazzbots! online at https://www.theshazzbots.com and join Captain Captain, Luna Stardust and Space Chicken this Friday June 26th from 12:30PM to 1:00PM for a live broadcast of their "Virtual ComFest" episode!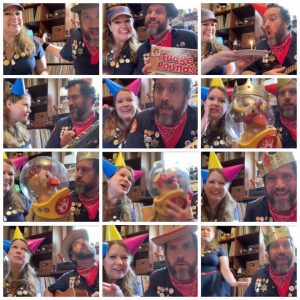 ---
---